Our Role
Logo Design
Graphic Design
UX/UI Design
Website Design
WordPress Website Build
Monitoring and Maintenance
Summary
729 SOLUTIONS DESIGNED A LOGO, SUPPORTING VISUAL ASSETS AND DEVELOPED A WEBSITE TO SHOWCASE AND ORDER THE CLIENTS' NEW PRODUCT.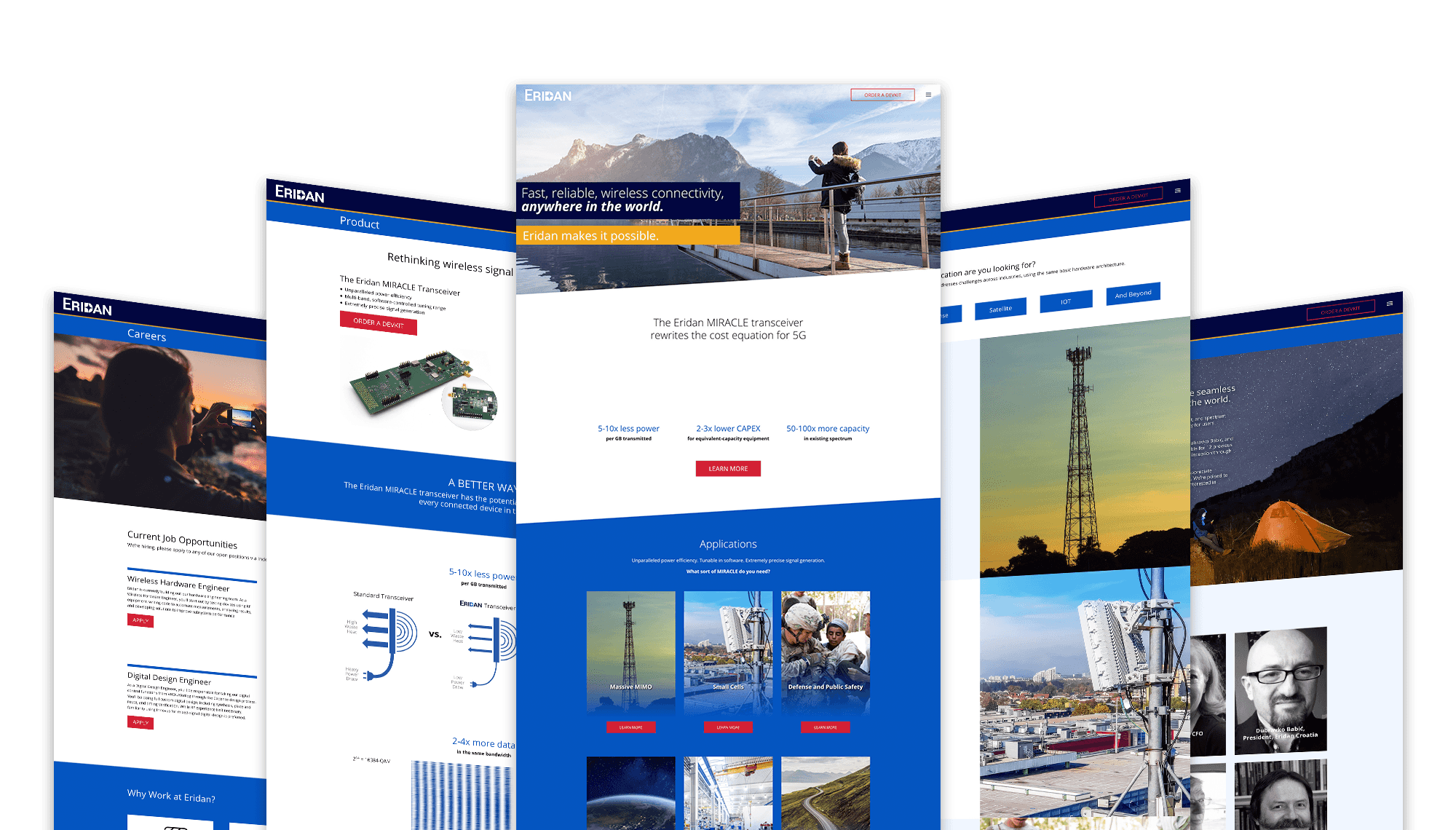 Problem Statement
Eridan developed a new transceiver and was looking for a one-stop design and development partner that can help get their website up in record time to support their product launch.
The Eridan team wanted to be able to access the website after launch to perform content updates on their own.
Eridan's logo needed a refresh and wanted to unveil the new logo with the launch of the new website.
Additionally, their team provided sketches that needed to be translated into high quality, product relevant infographics and imagery.
Project Goals
Determine the full scope of the project

Redesign Eridan's logo

Design product related infographic and imagery

Build a website to showcase Eridan's product

Incorporate a way to order the product

Utilize a user friendly CMS

Launch the website and brand identity in record time
Software Used




Development Languages
PHP
JavaScript
HTML 5
CSS 3
Research Methods
Client Interviews
Informational Design Research
From Client Sketch To Final Logo

Key Focus Areas
How can we capture Eridan's vision and identity roots in their new logo?
How do we best portray and visualize the complex, technical product details?
What platform and development approach do we use to build the website quickly and within budget?
What platform will be easy for the client to update and maintain in the future?
Core Client Needs
Cohesive Branding
The brand guide must define our brand and provide a library of assets to ensure it is used cohesively.
Central Location
All tools and assets must be stored and updated in one central location.
Easy to Use
Our teams and external vendors should be able to use the brand guide and assets with little to no instruction.
Resource for All
The brand guide must benefit and help save time for all our internal teams as well as external partners.
Easy to Maintain and Grow
The platform must be easy to update, maintain, and must have the capability to grow.



Learnings
This was an interesting challenge that required close teamwork between our design and development team. Due to the short deadline we had to build the website while working on a new brand identity.
The design team worked closely with the client to finalize the brand visuals in a phased approach so the development wouldn't come to a halt. Simultaneously, the design team created visual assets for each page of the website.
Our dev team created the framework and built the website in a way that made the brand implementation quick and easy. Our teams came together and had a unified vision throughout the design and dev process.
729 has highly-skilled design and development teams offering a wide variety of software development and graphic design skills, giving clients such as Eridan the option to use a single provider for project execution.
Overall, this project allowed 729 Solutions to showcase our skills in deploying the best methodologies to solve complex challenges. This project specifically proved that we can offer a one-stop-shop, from research to design and design to development, all in fast turnaround times when the need arises, which truly delights our clients.
Have a Project?
We'd love to hear about it!
Email us at
solicitations@729solutions.com
for solicitations regarding partnerships, linkbacks, or subcontracting opportunities.