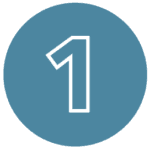 Keep it simple
People spend less than 15 seconds on a website. Keeping them focused on your brand's message requires a design that is clear and simple. This can be achieved by following the "less is more" concept and avoiding a busy, cluttered design.
Users are more likely to find the key messaging on your website if they have less content to scroll through and fewer options to choose from. Minimizing the options on your site will increase the likelihood that readers will take the action your brand seeks, such as leading them through a sales conversion funnel. Imagine the best grocery store experience where everything along the way is exactly where you need it!
A simpler design also loads faster and reduces the bounce rate from your site.
Bonus points: this also boosts your site's search engine optimization (SEO)!
An excellent example of simple design is Virgin's website, which gives you enough information to keep you interested without overloading you. Despite the fact that Virgin is a large conglomerate, the site presents the brand in a simple, clean way. Of particular interest is how the navigation is laser-focused down to four primary menu items in the header.
A perfect example of "less is more."